Finding the best free synth VST plugins can be a terribly time consuming endeavor. After all, there's literally tons of plugins strewn all over the internet.
To save you a lot of trial and error, we have done a rundown of the best free synth VST/AU plugins that can do it all – from crafting sublime mellow chords, lush ambient chimes, to groovy wall rattling bass lines, and ethereal atmospheric layers.
Simply download these free VST/AU plugins and toss 'em in your DAW (FL Studio, Logic Pro X, Ableton Live, Reaper, Reason, you name it) and derive the best sound out of your mixes.
So, are you ready to snag the best free synth vst plugins and immerse yourself in the exciting world of synths? Without further ado, let's get started.
Note: If you want to download even more free plugins for synths, guitar, vocals, drums, and effects, check out this ultimate list of 77 Best Free VST Plugins.
55 Best Free Synth VST Plugins 2022
Helm is a polyphonic synth that offers lots of tweaks and customizations. For starters, you can alter its source code as per whim.
Helm boasts a step sequencer, modulation system with real-time feedback and 7 filters with saturation, oscillator feedback and key tracking for waveshaping. What's more, it can be launched from anywhere inside your DAW for seamless operation.
Modelled upon the iconic Yamaha DX7 synth, Dexed lets you harness the power of 144 DX7 parameters that are completely DAW automatable. Not to mention, you can revel in a melange of exciting patches that will have you in awe.
Dexed also doubles up as a MIDI cartridge manager and patch editor for the analog DX7 synth.
A formidable free alternative to the premium synth plugin, Serum, Vital is a swanky wavetable synth that features 2 filters, 3 full customisable oscillators with multiple different stock wavetables, and limitless modulation capabilities.
Even after all these years Helix hasn't lost its charm and usability. Still available for free, Helix helps you lay down tasty synth melodies and deep bass grooves in your audio tracks. It is a must have in your synth plugins' arsenal.
A groundbreaking plugin with enormous potential, Pendulate is a monosynth that harnesses a double-pendulum-oscillator to craft unique soundscapes. Pendulate is one of the best free synth plugins if you want to incorporate some new textures in your sound design.
Considered by leading industry experts as a top-tier plugin, Synth1 features 2 oscillators that can be modulated via ring, FM, modulation, and synchronized envelopes as well as 4 types of filters for adding distortion.
You can easily craft some breathtaking sounds and write notations via SYNTH1's legato mode and portamento.
If you are an ardent lover of layered DnB drums, pounding basslines, and killer kicks, DC Bazz::Murda could be the best free synth VST that you are looking for.
It is suitable for multiple genres especially the ones where deep Trap-Hop/Hip-Hop kicks are commonplace.
Emulating the Roland JP 8000, the Superwave P8 is a formidable synth apt for producers in genres such as EDM, Trap, hip hop and Trance. It offers 64 high quality presets controllable via MIDI with learning ability and up to 8 notes of polyphonic operation.
Originally planned as a hardware synth, Tyrell N6 is a subtractive synthesizer that boasts 2 LFOs and envelopes. The sheer number of presets that the Tyrell N6 offers can put some premium synth VSTs to shame.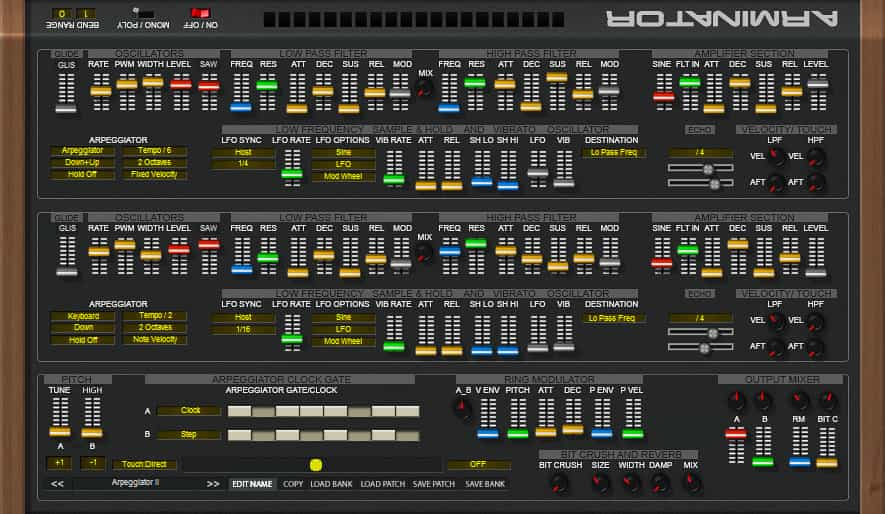 Sporting a slick GUI and a full stack of sound designing options, Arminator remotely emulates the CS 80. It features over 128 default patches and delivers nostalgic synth sounds that harken us back to the glorious 80s.
Budding Trap, EDM, and trance beat makers will be in awe of Acoustic Nightlife, a must have synth that comes in handy for sculpting dancey hook laden-soundscapes!
FireBird 2 is a subtractive synthesizer replete with 430+ preset sounds and an intuitive interface for beginners.
FireBird 2 features 38 types of filters including low-pass filters, Vocal filters and EQ, FM and AM modulation. Not to mention, this swish synth also sports custom skins customizable with any DAW.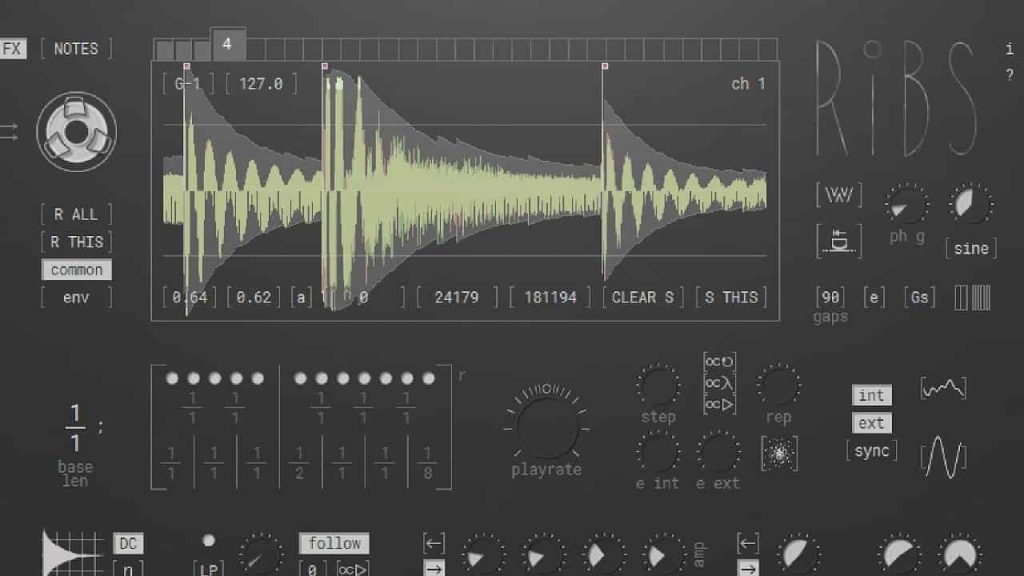 If you are looking for a synth with sample-based and granular synthesis, then Ribs by Hvoya Audio is right up your alley. With endless modulation options, textures and sounds and sounds to offer Ribs makes short work of many run-of-the-mill subtractive, wavetable or FM synths.
Technically a half synth, half FX unit, Ribs allows users to turn on the FX mode when on an existing audio track.
A confluence of fine vocoder-style synthesis and text-to-speech, Alter/Ego is a unique vocal synth that can sculpt sounds for the fine timbres of voice.
Simply type in any word or phrase into the WORDS section, and Alter/Ego will eloquently sing or speak them out. It also doubles up as a polyphonic synth useful for playing different chord patterns. All in all, Alter/Ego is one of the best free synth vst plugins on the market for vocoder synthesis.
Revel in nostalgic 70s organ sounds thanks to this snazzy organ synth called Martinic Combo Model F. You can also add a dash of modern synth flair to your compositions via quick parameter tweaks.
A very versatile synth VST, Tunefish 4 can add rich layers of pads, leads, and bass lines to your audio tracks. With its extensive library of powerful presets you can infuse new life into your compositions.
Replicating Oberheim's vintage OBX and OBXa synths, DiscoDSP's OBXD plugin should definitely be on your radar if you have a penchant for micro random detuning and other analogue tones of yore. OBXD works best in conjunction with additional processing such as delay, reverb, chorus, etc.
Synister is an easy-to-use open-source synth plugin that sports a built-in virtual keyboard for dialing-in sick tones and creating ethereal atmospherics.
Synister packs in a ton of immersive controls such as 3 LFO's, 3 oscillators, 3 envelopes, 32 filters (highpass, lowpass, ladder, bandpass), 4 effects (chorus, delay, clipping, and low fidelity), and a step sequencer.
Purge your eurocrack gear longing with VCV Open Rack which is a splendid open-source virtual synth that can add rich symphonic layers to your mix. You can tweak around its patch cables for hours on end to derive optimal results.
Modelled after the hardware synthesizer, Roland Juno 60's chorus effect module, OSL chorus adds a touch of bright lush chorus sounds in your mixes.
Available for both Mac and Windows OS, simply throw the OSL Chorus in your guitar and bass channel tracks and hear the clearly audible difference.
Sound designing becomes a breeze with TAL-NoiseMaker, a virtual analog synth that features over 256 factory presets, 3 oscillators, up to 6 voice modulation, inbuilt delay, and reverb that all invariably come in handy.
This CPU-friendly beast boasts parameter knobs that can all be automated within your DAW and learned via MIDI.
Originally launched as a clone of the Moog Voyager as a rack extension for Propellerhead Reason enthusiasts, VK-1 Viking comes loaded with 3 adjustable wave oscillators, zero delay with feedback filters for enhanced resonance and renders a genuine vintage analogue synth experience. It is now compatible with all major DAWs.
With a staggering amount of controls and dial-type indicators, Kairatune positions itself as an electronic music composer aural weapon. For starters, it boasts a streamlined preset-management system where you can easily select presets.
All together, if you are looking to craft stripped down dance beats layered with aggressive synth melodies, then Kairatune stands firm as one of the best free synth VST plugins on the internet.
An emulation of the classic Roland JX-8P analog synth, PG-8X by Martin Lüders' offers a stunning chorus module, 80s style analogue pads, and bass patches. Not to mention, all its parameters are MIDI mappable with MIDI learning capability. Please note, t
Modelled after the vintage Roland 303, Muon Tau Bassline sports a simplistic GUI but does not disappoint when it comes to sound design. You can expect to hear the same ol' funky monophonic synth grooves as you did with the Roland 303.
Please note, that this plugin can only be downloaded via the Facebook page of Muon Software.
A digital recreation of the mighty Polyphonic Korg PS 3300, Full Bucket's FB-3300 is high on deliverability and low on CPU consumption, which is great.
FB-3000 racks up vintage band-limited oscillators, 2-pole low-pass filters, and 3 independent polyphonic synthesizer blocks that ensure crafting timeless synth hooks becomes as seamless as can be.
Considered by many as one of the best free synth VST plugins currently, Surge is an open-source hybrid subtractive synthesizer with a dual synthesis engine where each patch contains two 'scenes' that can be used for splitting or layering patches.
On the effects front, Surge features a barrage of effects such as Reverb, Chorus, Distortion, Delay, Phaser, EQ, stereo-image control, limiter, Vocoder, Rotary speaker, and Frequency shifter.
Ideal for beginners and professionals alike, Exakt Lite is an intuitive FM Synthesizer that emulates 8 waveforms of the Yamaha TX81Z. Interestingly, it isn't based on any real hardware of any particular synth.
Exakt Lite features 4 operators (arranged in the classic 8 FM algorithms) and also modulation for up to 12 voices.
Crystal sports advanced modulation controls including inbuilt effects such as chorus, filter, flanger, delay, echo, etc. as well as tempo sync and multi-stage envelopes.
Crystal invariably becomes useful for budding producers learning the subtleties of sound designing and tone selection.
Lokomotiv is a proper dance-type synth purely suitable for crafting slick EDM boppers. It packs in an unholy amount of presets that come in handy for churning out thick basses and phantasmic synth hooks prevalent in modern electronic music.
Replicate 80's synth melodies in your songs with Digits 2. It can add a dash of dirty bass grooves, warm pads, lush leads in your mix. For starters, it boasts a gamut of effects such as pitch-bend, flanger, harmonic bit crusher, analog chorus, and more.
With over 100 presets, including; leads, pads, basses, brass and more, Digits 2 promises immenses tone sculpting opportunities. All in all, it is one of the best free synth VST plugins on the market.
A polyphonic analog-modeling subtractive synthesizer, MauSynth is particularly useful for producing EDM tracks. Heavily inspired by DeadMau5's sound, you can expect this synth to recreate tones on similar lines.
If ease-of-use while using a synth plugin is your top priority, then Charlatan is the top contender. Charlatan is a Windows only polyphonic subtractive virtual analog synthesizer plugin that offers a streamlined and intuitive interface.
With firm focus on sound quality and features such as 2 oscillators, LFO module, 2 ADSR envelopes, stereo spread, multi-mode filter, and unison with up to 7 voices, Charlatan ensures you never stray off the path fiddling with complex parameters whilst creating music.
A CPU-efficient virtual analogue synthesizer, u-He Podolski boasts 2 LFOs, one oscillator, an envelope, filter, and more. With over 300 presets as well as a Zebra-style arpeggiator/sequencer and a ton of effects such as chorus and delay, sound sculpting has never been so easy.
One of the best free synth VST plugins for producing trance and modern electronic music, T-Force Alpha Plus is a relatively new plugin based on new synthesis (subtractive and FM synth), and features new Mod Envelopes, updated oscillators, as well as newly integrated sidechain FX.
Zebra2 by U-He is a quirky plugin that boasts just one oscillator. But, that doesn't take away from how powerful Zebra2 is! One of the best free synth vst plugins from the house of u-He, Zebra2 is surprisingly still free.
You can add up to 24 spectral effects including the likes of filter, phase distortion, sync, scatter, and even intricately customize the Oscillator waveform with different modes such as spectromorph, geoblend, geomorph, and spectroblend.
An emulation of popular hybrid synths of the 80s, COBALT sports 6 waveforms that were resynthesized from 80s hybrid synths.
Here's a little rundown of what this synth is capable of:
Lush overdrive effects based on a bespoke algorithm.
Polyphonic Portamento.
Stereo delay effect with synchable delay times via MIDI.
Traveller is a monophonic synth Inspired by Korg Synthe-Bass, Traveller is a monophonic synth renowned for its simplistic controls. It features an oscillator with six different waveforms, twisted monophony and a gamut of switch and slider controls such as:
Bite switch (resonance on/off)
Hold switch (sustain on/off)
quack switch (filter on/off)
traveller slider (filter cutoff)
bump/singing slider (release time)
slow/instant slider (attack time)
A no-frills attached simplistic 2 oscillator synthesizer plugin, Piky is modelled on the creation of plucks and pikes with extreme ease.
Considered by many to be one of the best free synth VST for FL Studio users, Kamioooka is a polyphonic full-modular synthesizer with a nifty patch cable system. 
It boasts over 7 types of modules and up to 10 module slots. With Kamioooka at the helm you can easily combine modules and make patches seamlessly.
A vintage synthesizer with analog subtractive synthesis, KXPM23 comes with a SoundFont player, Moog filter, and FX with distortion and 2 delays and with the same modules on the lines of the Kx-Modulad.
Xenfont is a SF2 sample-based synthesizer that features subtractive synthesis, 2 oscillators, and hybrid SF2 SoundFont.
Microtonal sound-designers would be in awe of this feature-ridden plug that was intrinsically designed with an ergonomic workflow for crafting powerful sounds with rich musical timbres. All together, Xenfont is one of the best free synth vst plugins for fans of subtractive synthesis.
Syntler is a groove and arpeggio synth, Playable via a joystick, Syntler is an arpeggio and groove synth. It can be controlled via the virtual keyboard or MIDI keyboard.
Syntler boasts 32 custom presets, tempo sync delay, an LFO, and 2 oscillators: one each for tone and noise as well as a unique Groove and scratch/fx mode.
Crafting electronic bass and funk style music becomes a breeze with the MiniMogueVA, a stomp machine with MIDI learning capabilities.
If you are fond of resounding dubstep wobbles, this is the plugin that can help you drop those infamous ground thumping sub-bass sounds.
Not to mention, MiniMogue also features immersive delay and chorus effects.
Starkly emulating the Proteus 2500 vintage hardware synthesizer, Proteus VX comprises the same factory bank, sounds and design ethos as the original.
You can avail 54 different filters including flangers, multi-pole resonant filters and vocal filters as well as "High Voice Polyphony" that is powered by your CPU.
Another formidable polyphonic synth on our list of the best free synth VST plugins, PolyGAS offers innumerable tweaking options as well as a multitude of samples supported in WAV and AIFF formats.
Not to mention, it boasts over 18 envelopes and effects such as reverb, filter, time delay modulation, non-linear distortions, et al.
HISE is a nifty hybrid synth/sampler that enables users to create their own VST, AAX, AU, or iOS instruments.
You can also use HISE as a standalone plugin where it operates a seamless turn-key programming environment for tons of effects such as reverbs, filters, delays and the rest of it.
Pecheneg Tremolo is a handy tremolo effects synth that can create incredible flutter and rhythmic modulation effects.
While you can still derive optimal sounds for your bespoke musical endeavour using this plugin, however, you need to spend some time on the tweakage. It is one of the best free synth vst plugins for creating rich tremolo effects straight in your mix.
Sometimes truncating noise can be very helpful if you want your mix to sound clean and cohesive. Other times, you might as well want to add some noise to add dynamics to your tracks.
Noisetar is a slick plugin that adds just the right amount of subtle noise into your final mix or recordings that makes your instrumentation sound natural and authentic. It could be as diverse as a sharp attack of a pick on a guitar string, a guitar chord slide on the fretboard to a breathy burst into a flute.
Another solid offering by NUSofting, Sinnah relies on a distinct delay matrix with multiple configurations for soundscapes. Sinnah features 1 oscillator comprising 5 waveshapes and lends enough customization options for crafting the harmonics of each waveshape.
Triple Cheese is a comb-filter synth that comprises over a dozen banks and some ethereal delays effects that will have you in a daze. Built over a decade of constant updates, Triple Cheese is one of best free synth VST plugins for those who like clean percussion effects in their final mix.
Sonigen Modular is a modular synth plugin that comes with over 28 individual modules that can be interconnected to create patches or presets for stacking up layer-after-layer of synths.
Not to mention, it also features a barrage of usable presets. You can easily use Sonigen's "WaveMaker" feature to quickly load, edit, and save custom waveforms and wavetables.
Modelled on the classic Ensoniq SQ‑80 wavetable synthesizer, SQ8L is a nifty plugin that sports a slick menu-driven GUI wherein you can easily dial-in 80s synth driven tones by routing sampled waveforms through traditional analogue signal paths.
If you are looking for a free virtual analog/FM synth to create solos, leads, arpeggios, bass and FX-style sounds, Crio should definitely be on your radar.
For starters, Crio comes loaded with abundant features such as 2 filters, amplifier with booster and saturation, envelope generator, monophonic oscillator with noise generator and 3 voices.
Not to mention, an LFO that is useful for tempo sync and quantization of waveforms. When a user applies tone modulation from the LFO with quantization turned on in their DAW, the resultant tones will be forced to a scale.
Rounding off our list of the best free synth VST is Gnat, a hybrid analog/sample based synthesizer. Gnat comes with 50 presets and houses 4 oscillators and an array of FX such as Phaser, Reverb, Chorus, Vibrato, Delay, Distortion-Overdrive, Key pitch, Portamento in mono mode amongst others.