To produce the signature sound of trap music you need to have two essential things covered: a nifty DAW (digital Audio Workstation) and a handy assortment of decent audio plugins. However, finding the best VST for producing trap beats can be time consuming especially when you are learning the ropes of music production.
Fret not, we scoured the internet to find the best VST for trap producers that will spruce up your mixes and make them sound similar to the work of Post Malone, Travis Scott, Young Thug, Lil Pump and more. Most of these plugins are super affordable and basically all you need to drop sick beats and deep bass thumps in no time. So, without further ado, let's dive right in. 
5+ Best VST for Trap 2023
A brilliant polyphonic synth, Spire amalgamates the best of analog and digital technology to dish out a compact plugin for creating trap beats.
With 4 versatile poly-morphing oscillators with 6 modes, and a Unison Engine allowing 9 voices per oscillator, Spire can create some eclectic synth sounds rarely heard before.
In fact, all the Unison voices including noise can be spread by chords and octaves.
Not to mention, 2 multimode filters, arpeggiator and a solid FX section with phaser, flanger, distortion, reverb, vowel, chorus, and delay, Spire is a phenomenal plugin with immense soundscaping potential.
If you want to have the trademark vocoder style Trap vocals, Vocal Synth 2 is one of the best VST for trap on the market.
VocalSynth 2 can achieve those unique vocoder-esque modulated vocals that have become a staple in popular Trap songs over the years.
VocalSynth 2 features 5 powerful modules that can achieve an exciting variety of vocal effects that run the gamut from edgy, experimental to quirky and sublime.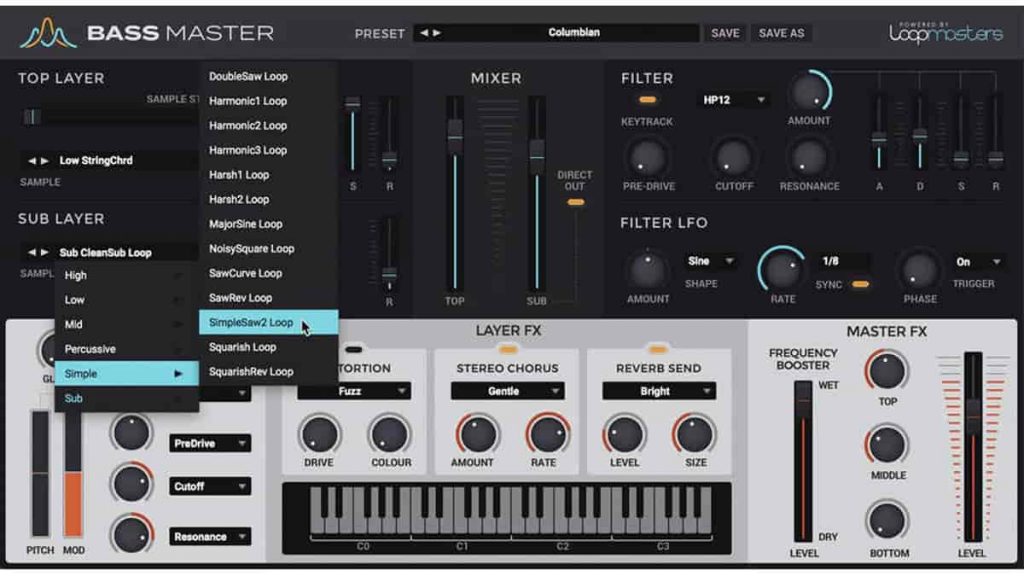 With over 350 preset patches for trap and classic 808 bass sounds, Loopmasters Bass Master is a full fledged library for producing fat bass lines.
All low-end bass sounds are processed with an multimode envelope filter, ADSR envelope with stereo width modulation, LFO, distortion and reverb sends.
If you are looking to incorporate god-tier sub bass sounds then Bass Master is your go-to tool for summoning the bass gods.
For starters, BassMaster uses 2 layers, Top and Sub, to blend between sound sources. You can fine tune the details in the master section via some levelling and a 3 band EQ.
No trap song is complete without sick beats and Dopesonix Beat Machine 2 is a solid plugin for crafting drum beats that hit hard.
Beat Machine 2 can produce beats inspired from hip-hop drum sounds and drum kits that harken us back to the golden era of hip hop.
Since Trap evolved from Hip-hop, Beat Machine 2 does a pretty good job in providing 300+ premixed kits, wherein percussive elements are categorized into Snare, HiHat, Kick, and Crash.
You can further tweak each individual instrument's mix sliders with pan, reverb, pitch and filter controls for better in-depth control and arrangement.
Rounding up our list of the best VST for trap is Exhale, an extensive library of meticulously recorded loops, vocal hits, one shots and melodies that can enhance your production up by a notch.
The sample library is categorized into Notes, Loops, and Slices. They are further subdivided based on characteristics such as "Heavy", "Dirty", "Percussive" to cover a good amount of ground.
All together, Exhale is a solid plugin that lets producers craft some sick rhythmic and melodic loops from the human voice which gels well with your bespoke trap tracks.