The epitome of synthesis, Modular synthesizers are renowned for their mind boggling number of knobs and cables that give EDM musicians complete control over the sound design process. However, finding the best modular synth VST to unlock vast soundscaping potential is quite painstaking.
Fret not, we have done a rundown of some of the best modular synth VST on the market that will free you from the stranglehold of the pre-wired signal paths found in most analog and even digital synths. You too can make use of the evocative and rich textures of modular synthesis to compose sweet electronic music no matter what your tastes or budget are. Without further ado, let's get started.
5+ Best Modular Synth VST 2023
A Eurorack-style modular synth for your DAW, Modular by Softube helps you create Eurorack-style modular configurations.
Thanks to Softube's collaboration with the creators of Eurocrack, you can find some of the classic modules to get started with. 
Not to mention, a startling array of component-modeled recreations of Eurorack modules from Mutable instruments such as Clouds, Rings, and Braids and modules from Intellijel and Buchla. 
Loom II is a digital additive synthesizer where you can create sound by adding harmonic partials akin to a classic analogue synthesizer.
You can use up to 512 harmonic partials per patch to create pretty much any sound imaginable or perceivable to human ears. The kind of sounds that run the gamut from pads, bass to ambient grooves and evolving textures.
All in all, Loom II is one of the best modular synth VST plugins on the market that offers enormous sound designing options with up to 10 spaces available to hold 34 editable modules that can be used for effects, filtering, sound generation and more.
u-he's top-tier offering, Bazille is a patchable polyphonic modular synth with digital oscillators. It features 4 digital oscillators based on phase distortion, fractal resonance (FR) and FM that harken us back to the 1980s synth rave era. 
You can craft some dark ambient chimes and tones that can be well balanced and smoothened out by analogue-style multimode filters and a barrage of modulation options.
It sports 2 LFOs, 4 ADSR envelopes (with fall/rise for sustain stage) and 4 effects such as spring reverb, stereo delay, distortion, and phaser and over 1700 factory presets that make it a powerhouse for modular synthesis.
An emulation of the 1973 classic analog synth Buchla Easel, Arturia's digitally recreated Buchla Easel V is touted to achieve a similar synthesis.
The experimental sounds of West Coast synthesis are brought to life in a digitally recreated version by Buchla Easel V that can craft some of the finest bass and pad sounds that you'll ever come to hear with rich textures and dense atmospherics.
With a little bit of tweakage, you too can revel in the typical bleeping and blooping like a true synth master.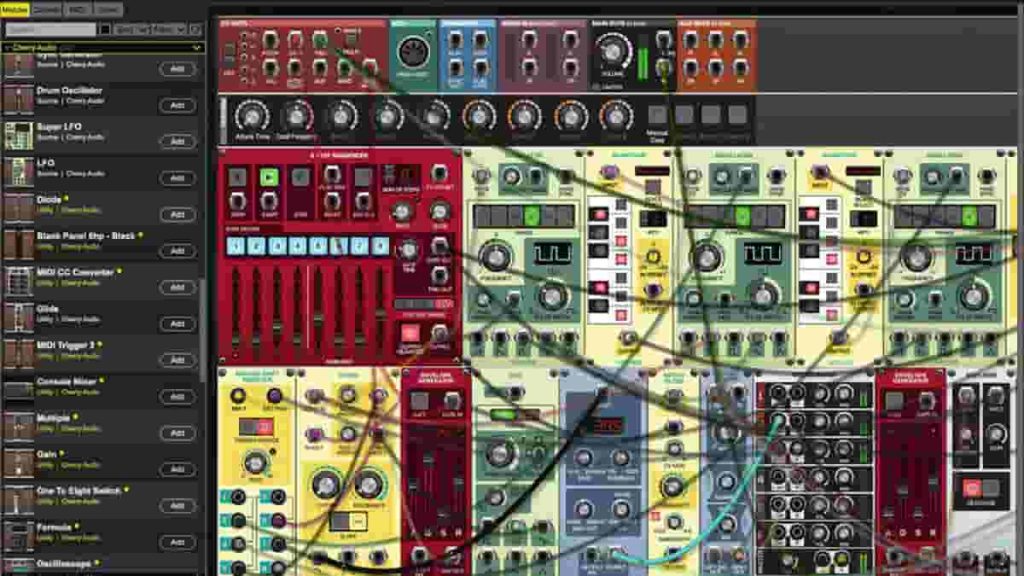 Rounding up our list of the best modular synth VST is Voltage Modular, a Eurorack-style virtual rack modular synth that works both as a standalone plugin as well as host for numerous expander modules.
Voltage Modular offers tons of unlimited instances of modules and patch saving options.
It does away with the shortcomings faced by other virtual modular synth instruments as Voltage Modular offers a smooth workflow with easy-to-read control panels and cables that can be rerouted easily.
Voltage Modulator's analogue oscillators are modelled on minor distortions found in hardware filters. What's more, Voltage Modulator can be controlled via MIDI from your DAW.
SEE ALSO: Best Synth VST Plugins