Looking for the best brass VST plugin for your mix? You are at the right place. Having brass tracks in your mix can add a touch of realism especially if you produce orchestral music with strings, choir and the rest of the ensemble gear. 
Luckily, some of the best brass VST on our list provide an incredibly authentic sound that will inject a new lease of life and realism into your digital brass ensembles that sound hackneyed and keyboard-ish. So, without further ado let's get started.
5+ Best Brass VST 2023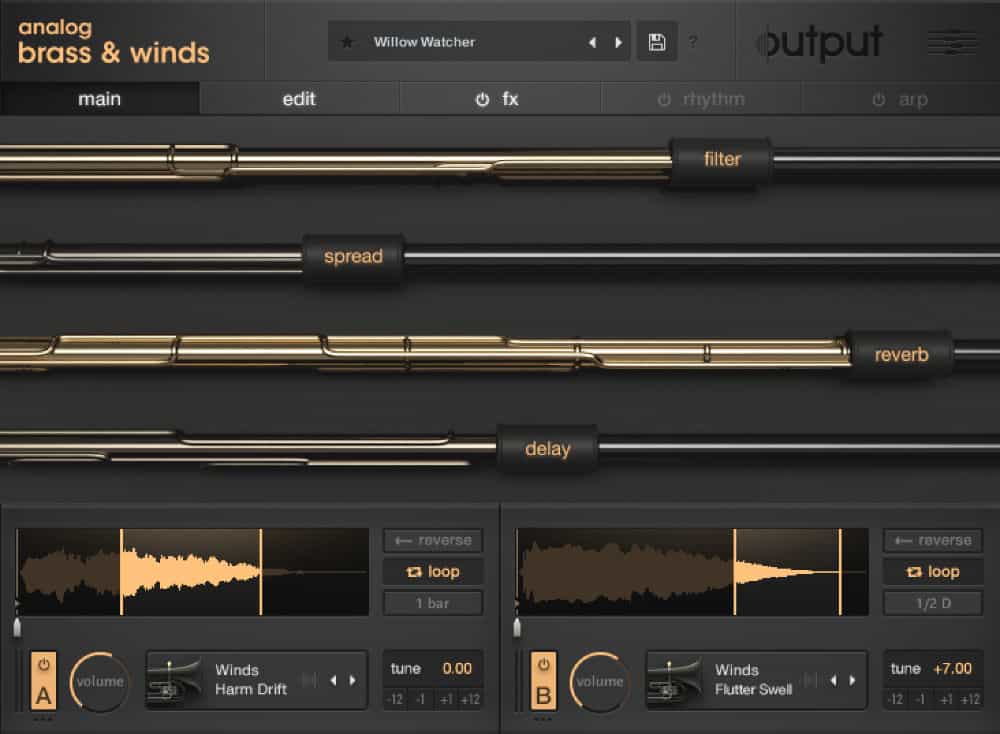 You can create a plethora of interesting and unique brass ensemble sounds with Analog Brass and Winds at the helm. We are talking about realistic brass sounds as well as distinctive sounds that can make or break a well-composed orchestral music piece.
While the graphical user interface is neat and streamlined, learning the ropes of tweaking the parameters comes naturally to users of all hues whether they are a beginner or professional music producer.
Especially beginners in music production that are looking for an affordable brass plugin should definitely check Analog Brass and Winds out.
What's more, you can also devour plenty of wind instruments that accompany your orchestral production(s) and further expand your VST orchestra arsenal.
With up to 13 distinct brass and reed instruments at its disposal, MOJO 2 is a phenomenal plugin that also offers a realistic legato mode which can replicate any given brass instrument.
Not to mention, 4 presets that harken us back to various eras of brass sounds, from the saturated dirty retro jazz tone of yesteryears to clear modern brass sounds.
Similar to a recording studio setup, you can adjust three different mic positions to shape the overall brass ensemble sound.
You can also tweak solo or multiplayer mode (up to 10 players) for playing various brass articulations. All together, MOJO 2 is one of the best brass VST plugins on the market for music producers. 
Heavyocity's Forzo comes with a staggering number of samples of trumpets, trombones, tubas and french horns that were composed and carefully recorded by renowned film soundtrack composers.
Which is why, Forzo comes with an impressive library with over 25 GB worth of samples that will certainly suit all your music production needs spanning tons of musical genres.
Moreover, Forzo comprises 3 engines: a cinematic engine, a loop designer for creating loops and a traditional engine that offers a ton of articulations.
If you want to replicate the nostalgia-inducing retro brass band sound of the 1960s and 70s look no further than Vintage Horns 2 which is a specialized virtual brass plugin that offers an accurate and authentic recreation. 
For starters, it offers 8 different articulations including swell, staccato, etc. that make Vintage Horns 2 sound like a real vintage instrument suitable for genres such as funk, jazz, soul and more.
With over 14 unique instruments, ranging from bass, flute to trumpets and saxophones, your orchestral music production definitely gets a boost with Vintage Horns 2 in the mix.
Orchestral brass get a new fillip with the Chris Hein Orchestral brass plugin. Featuring over 50,000 samples of trombones, trumpets and French horns, Chris Hein Orchestral brass offers complete control over tweaking brass sounds.
You can polish every detail, nitty-gritty of a performance via 8 velocity levels per note. Not to mention, you can articulate each musical phrase with precision thanks to modes such as glide mode and true legato.